In 2015, we're getting excited about the imminent release of the new NWA biopic Straight Outta Compton. The flick shows the rise and fall of the MVPs of the rap game, Dr. Dre, Eazy E, Ice Cube, MC Ren and DJ Yella aka N.W.A. and their time coming up in Compton, California.
It features O'Shea Jackson as Cube, Corey Hawkins as Dre, Jason Mitchell as Eazy, Aldis Hodge as Ren and Neil Brown as Yella. The cast are relative unknowns, clever casting to see their stars rising like those of N.W.A.s.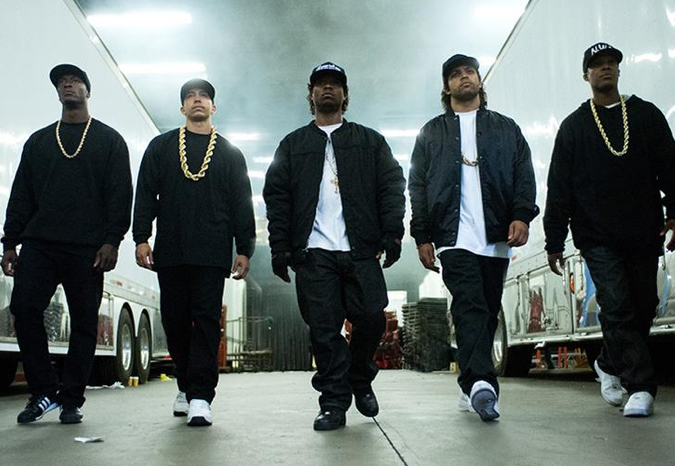 This photo had us and everyone else psyched. Especially young Cube rocking a white tall tee. You can browse our great range of tall tees in our store.
Set in Compton in the mid to late 80s, we're about to get a whole lot of 80s street style returning to the screen, so we're going to take a trip back in time to where it all began. Back to that time where kids were angry, rap was fresh and West Coast fashion was king. Let's check out what sort of effect those boys from the hood had not only on the music game, but on the fashion game too.


So Many Snapbacks
If you check out any group pics of NWA from back in the day, you'll
be hard pressed to find one where all five of the crew are not wearing a snapback. At the height of their worldwide domination these guys must have owned at least 100 of them each. They usually repped black snapbacks (although occasionally a white one would pop up on someone's head), always emblazoned with something they gave a f**k about. We're talking sports teams like the Los Angeles Raiders, Los Angeles Kings and the Dodgers, hood repping LA and Compton, or just a bit of self promotion with N.W.A, Ice Cube and MC Ren. Most notably of course is Eazy E's infamous Compton hat, that was styled in old English characters and still to this day is inspiring knock-offs and replicas.
---
Eazy-E DIY Costume
Looking for the perfect NWA costume this halloween? We've done the hard work for you by finding all the best quality pieces to make your Eazy-E outfit look legit! We also appreciate that you probably don't want to blow your whole pay check and want some money left over to buy some 40's so we've made sure that all the items are super affordable!
---
All Labels, All the Time
Streetwear fashion grew up out of the roots of sports style. It's no surprise that big labels such as Nike, Reebok, Converse and Adidas were the ones to roll with. If N.W.A. was wearing it, that's what you wanted to be wearing. They even made Dickies pants, a work wear brand, popular with the streetwear audience in the early 90s.
And what about kicks? A sneaker then is just as big a deal as a sneaker is now, if not more so. Eazy E wore Nike Cortez, Nike Air Jordan 3, Adidas Campus and Adidas Forum Hi, Ren was in the Converse Weapon, Nike Air Max 90, Nike Air Flight 90 and Nike Air Cross Trainer III, DJ Yella wore Nike Air Jordan 3 and 4 and Reebok Reverse Jam, Cube ran with the Nike Air Force STS and Nike Air Flight 90, and Dre had Adidas 3 Stripes, Nike Delta Force, Nike Cortez , Nike Air Force STS and even K-Swiss Gstaad. N.W.A. (and sports) fans scrambled to get their hands on the latest kicks worn by the biggest rap stars on the planet.
---
DIY Young Ice Cube Costume
Rocking a Young Cube costume to a Halloween party this year will definitely be a crowd pleasure. To pull it off properly though you're going to need to get some fresh swag and with Cube, that all begins with his stylish choices of snapbacks.
Always showing support for LA based sporting teams we've dug up some of the classics such as the Raiders/Kings snapbacks that he can be seen. Also some other ones from classic photo shoots and even his infamous "D" Doughboy hat from Boyz N The Hood.
---
The Bling Thing
Flavor Flav has a lot to answer for. "Do you know what time it is?!" is still ringing out on tracks but thankfully there's not so many massive clocks hanging around rappers necks. The cover on N.W.A. and the Posse has a whole lot of clock wearing going on and in another photo shoot Eazy wears a stop watch around his neck. What?
The guys grew up a bit from that early 80's look pretty quickly and appropriated the rapper bling dejour – the gold chain. If you've got cash to splash, this is how you do it on the street. Bitch better wear my money.
Much Love to the Raiders
The Raiders, the Kings, the Angels, the Dodgers… All the greatest sports teams in LA got a whole lotta love from NWA. From snapbacks, to jackets, to hoodies, to oversized jerseys, each and every member of NWA had a lot of time for their #1 (and #2, and #3) sports teams. The story of the Raiders involvement with NWA plays a major part in their overall look.
SHOP ICE CUBE'S RAIDERS JACKET
It's such an interesting story, in fact, that Ice Cube directed the 51 minute documentary "Straight Outta L.A." in 2010 detailing the group's entwinement with the L.A. Raiders. The short film describes how the Oakland Raiders move in 1982 to Los Angeles forever changed the fashion on the street in South Central L.A. The squad was mixed race, their logo was a pirate, their colours were silver and black and not only that, they wore their uniforms with style and had an anti-establishment vibe about them.


It wasn't long before L.A. gangs picked up the team and ran with it. Their merchandise crossed gang lines and permeated the streets. N.W.A. were coming up at the same time decked out in their team's gear. The Raiders won a Superbowl and confirmed in the minds of their followers that it was the right choice. Kids from all over the world were listening to N.W.A., seeing what they were into and picking up on it, imitating it. The Raiders blew up big time, and merchandise went through the roof. As Ice Cube says in the doco they "helped turn the Raiders into more than a football team" – and he's right.